Isildur1 defeats durrrr in heads-up battle on Full Tilt Poker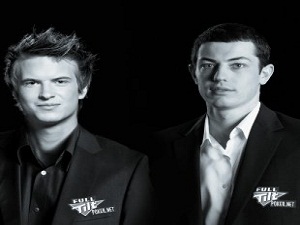 High-stakes heads-up matches have become all the rage over the past two years, beginning with the "durrrr challenge" and progressing through to the Superstar Showdown that took place on PokerStars in 2011 and 2012. Now the heads-up battles are almost setup by the poker sites as a fantasy style "who would win in a fight between…" with the most notable match being the $1 million battle between Ike Haxton and Viktor "Isildur1" Blom earlier this year on PokerStars. But the high stakes matches seem to be moving back to Full Tilt Poker now that two of the biggest drivers of challenge matches, Viktor Blom AND Tom "durrrr" Dwan, are sponsored pros of the site.
This weekend the two members of the new Team Full Tilt (now known as "The Professionals") squared off in the first high-stakes heads-up duel on the site since it relaunched on November 6, 2012. Blom, who has emerged as the best high-stakes heads-up No Limit Holdem player in poker (perhaps only Daniel Cates could challenge him for the title), dismantled the previously unbeatable Dwan who is perhaps giving up his mantle as the best online player to the likes of Cates and Blom –which is not overly surprising consider Dwan now spends most of his time in high-stakes live poker games in Macau and not at the virtual felt.
Each player put up a $100,000 stake for the match, which was played on Sunday, spread across four tables of $100/$200 No Limit Holdem at Full Tilt Poker. It took Blom just three hours and 1,391 hands to bust Dwan (in the end six tables were needed as the players reloaded) despite Dwan jumping out to an early lead.
Isildur1's opponents have said that the young Swede is one of the best players in the world at adjusting on the fly and keeping his opponents' off-balance, and considering his almost unbelievable record in these heads-up matches (against some of the toughest competition in the world) it's hard to argue that he isn't the best –Blom has wins over the likes of Phil Galfond, Daniel Cates, and other top-tier opponents.
For Dwan the future is no longer in online poker, which has been on its own downswing since its heyday when Dwan was "the man" at the online poker tables, as the now veteran poker pro has turned his unquenchable thirst for high-stakes action to the ultra-high-stakes games in Macau, where Dwan is now a regular participant.
The third member of "The Professionals", Gus Hansen, has been active at the Full Tilt Poker tables, but Gus is no longer interested in Challenge Matches, unless of course they involve a racket!