PokerStars Unveils 2014 PCA schedule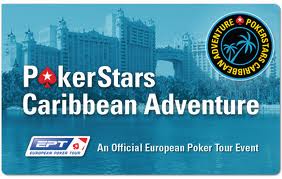 On Wednesday PokerStars revealed the full schedule for the 2014 PokerStars Caribbean Adventure (PCA) tournament series. The PCA will run from January 5th through the 13th, and as always it will take place in the beautiful Atlantis Resort in the Bahamas.
The 2014 PCA will feature 39 separate tournaments, including the return of the popular $25k High-Roller and $100k Super-High-Roller, as well as the $10k buy-in Main Event which will sport a $10,000,000 guarantee this time around.
Here is a look at the complete schedule of all 39 tournaments for the 2014 PCA:
Sunday January 5th
| | | |
| --- | --- | --- |
| 1 | NLH – Super High Roller – 8 Handed – Unlimited Re-Entries – Day 1 | $98,000 + $2,000 |
Monday January 6th
| | | |
| --- | --- | --- |
| 2 | NLH Main Event Super Satellite – Unlimited Re-Entries – Single or Double Add-on |  $1,000 + $100 |
| 3 | NLH – Turbo |  $2,000 + $200 |
| 4 | NLH Main Event Super Satellite – Unlimited Re-Entries – Single or Double Add-on |  $1,000 + $100 |
| 5 | NLH Turbo | $360 + $40 |
Tuesday January 7th
| | | |
| --- | --- | --- |
| 6 | NLH – Main Event – $10,000,000 Guarantee | $10,000 + $300 |
| 7 | Open Face Chinese – Unlimited Re-Entries |  $2,000 + $200 |
| 8 | NLH Main Event Super Satellite – Unlimited Re-Entries – Single or Double Add-on |  $1,000 + $100 |
| 9 | NLH – Turbo – 8 Handed |  $5,000 + $300 |
| 10 | NLH Main Event Super Satellite – Unlimited Re-Entries – Single or Double Add-on |  $1,000 + $100 |
| 11 | NLH – Turbo |  $360 + $40 |
Wednesday January 8th
| | | |
| --- | --- | --- |
| 12 | PLO – Turbo – High Only – 8 Handed |  $5,000 + $300 |
| 13 | Triple Stud – Razz, Stud, Stud 8 | $1,000 + $100 |
| 14 | NLH – Turbo – Bounty |  $1,000 + $200 |
Thursday January 9th
| | | |
| --- | --- | --- |
| 15 | NLH |  $2,000 + $200 |
| 16 | PL – Omaha  – High Only – 8-Handed |  $5,000 + $300 |
| 17 | H. O. R. S. E. |  $1,000 + $100 |
| 18 | NLH – Turbo – 8-Handed |  $5,000 + $300 |
| 19 | NLH – Super Satellite to $5K NLH (#20) – Unlimited Re-Entries – Single or Double Add-on |  $550 + $50 |
Friday January 10th
| | | |
| --- | --- | --- |
| 20 | NLH – 8-Handed | $5,000 + $300 |
| 21 | Americas Cup of Poker – Invitational | Invitation |
| 22 | NLH | $1,000 + $100 |
| 23 | PLO – High Only – Dealer's Choice 4/5 Cards – 8-Handed | $1,000 + $100 |
| 24 | NLH – Turbo |  $2,000 + $200 |
| 25 | NLH – High Roller Super Satellite – Unlimited Re-Entries – Single or Double Add-on |  $2,500 + $200 |
| 26 | NLH – Turbo |  $360 + $40 |
Saturday January 11th
| | | |
| --- | --- | --- |
| 27 | NLH – High Roller – 8-Handed – Single Re-Entry | $25,000 + $500 |
| 28 | NLH – Unlimited Re-Entries | $1,000 + $100 |
| 29 | NLH – 6 Handed | $5,000 + $300 |
| 30 | PL Big "O" – 5 Card Omaha High/Low – 8 handed | $1,000 + $100 |
| 31 | NLH – Turbo – Bounty | $1,000 + $200 |
Sunday January 12th
| | | |
| --- | --- | --- |
| 32 | NLH – Unlimited Re-Entries – 6 Handed | $1,000 + $100 |
| 33 | NLH – Women's Event | $1,000 + $100 |
| 34 | 8-Game – 8-Handed | $1,000 + $100 |
| 35 | NLH -Turbo | $5,000 + $300 |
| 36 | NLH – Hyper Turbo – Deep Stack – Unlimited Re-Buys – Double or Quad Add-0n | $100 |
Monday January 13th
| | | |
| --- | --- | --- |
| 37 | NLH – Turbo Edition of PCA Main Event | $360 + $40 |
| 38 | NLH –  Turbo – 6-Handed | $10,000 + $300 |
| 39 | NLH – Turbo |  $1,000 + $100 |
For more information on the 2014 PokerStars Caribbean Adventure you can visit the PCA website at http://www.pokerstarscaribbeanadventure.com/