Andy Bloch Profile

An expert in game of Theory and a Graduate of Harvard Law school, Andy Bloch is a lesser known poker player. He is best known for his talent in the game of Texas Hold'em. Before poker, he was fairly famous from being a part of the MIT blackjack team. Once he began to play poker, he took it seriously and very quickly became an impact in the poker world.

Top 10 Online Poker Rooms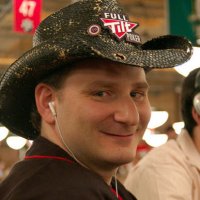 Andy Bloch is a part of the Full tilt poker team and has been very successful thus far in his poker career. He doesn't yet have any WSOP bracelets, but he has been very close several times. He has a lot of cashes that range from different varieties of places. His best tournament performance so far in his career has been at the 2006 $50,000 H.O.R.S.E. tournament.
Notable Poker Tournament wins
WSOP – 2001 - $2,500 Seven Card Stud – 5th Place - $18,430
WPT – 2002 - $10,000 No Limit Hold'em – Main Event – 3rd Place - $102,350
WPT – 2003 - $10,000 No Limit Hold'em – Main Event – 3rd Place - $125,460
WSOP – 2006 - $50,000 H.O.R.S.E. – 2nd Place - $1,029,600
WSOP 2007 Money List 10th
WSOP 2007 Number of Cashes 130th
WSOP 2008 Money List 26th
WSOP 2008 Number of Cashes 6th
WSOP 2009 Money List 952nd
WSOP 2009 Number of Cashes 161st
WSOP All Time Money List 55th
Bloch donates 100% of his winnings on Full Tilt Poker to various charities around the world. Andy chose not to practice law after passing the bar, instead opting to take advantage of the poker craze and pursue his life's passion.
Latest Poker Player Profiles