Vanessa Rousso Profile

French-American beauty Vanessa Rousso doesn't need luck to win at poker. She's got Game Theory, an interest she discovered while studying economics at Duke University. After finishing her four-year undergraduate degree in only 2 ½ years, setting a record at Duke, she lost no time in making a name for herself on the pro poker circuit.

Top 10 Online Poker Rooms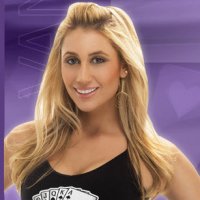 Birth Date: February 5, 1983
Birth Place: White Plains, NY
Residence: Las Vegas, NV
Highlights:
* 1st runner-up, 2009 NBC National Heads-Up Poker Championship - $250,000
* 1st woman in history to reach NBC's NHUPC Final Table
* European Poker Tour (EPT) – Grand Final – 4th Place - $54,116
* Latin America Poker Tour (LAPT 1) – Punta del Este Main Event – 10th Place - $11,065
* NBC Poker After Dark – "Gus & The Gals" Episode – 1st Place - $120,000
* PokerStars WCOOP No Limit Hold'em Main Event – 2nd Place - $700,782
* PokerStars WCOOP High Roller No-Limit Championship (Heads-Up) – 5th Place - $100,000
* PokerStars WCOOP Fixed Limit Hold'em (6 Max) – 3rd Place - $59,450
* World Poker Tour (WPT) – 4th Borgata Poker Open – 1st Place - $285,450
* World Poker Tour (WPT) – Five-Star World Poker Classic – 7th Place - $263,625
* World Poker Tour (WPT) – 2009 Southern Poker Championship – 7th Place - $79,117
* World Series Of Poker (WSOP) – 37th Annual WSOP – No-Limit Hold'em Short-Handed – 8th Place - $61,955
* World Series Of Poker Circuit Event (WSOPCE) – Harrah's Atlantic City Poker Tournament - No-Limit Hold'em – 5th Place - $17,550
Favorite Poker Game: Texas Hold'em

Nickname: Lady Maverick

Web site: www.vanessarousso.com

French-American beauty Vanessa Rousso doesn't need luck to win at poker. She's got Game Theory, an interest she discovered while studying economics at Duke University. After finishing her four-year undergraduate degree in only 2 ½ years, setting a record at Duke, she lost no time in making a name for herself on the pro poker circuit.
And what a name she's made. Vanessa earned more money playing poker in 2007 than any other pro female on the U.S. poker circuit. To date, the 26-year-old has earned more than $2.2 million in live and online tournament play, taking first runner-up in NBC's 2009 National Heads-Up Poker Championship.
All while studying for a law degree at the University of Miami.
It was after her first year of law school in 2005 that Vanessa entered a WSOP-Circuit Event in New Orleans, finishing seventh. That same summer, she took 45th place in the ladies event of the World Series of Poker.
After winning $17,550 in the $1,500 No-Limit Hold' em Event at Atlantic City's WSOP-Circuit in early 2006, Vanessa set her sights on the $25,000 World Poker Tour Championships. With the financial backing of friends, she took seventh place. Vanessa walked away from the Bellagio with $263,625 in winnings and a sponsorship deal as a member of Team PokerStars Pro.
She went on to finish eighth at the 2006 WSOP, 42nd in the 2006 WPT Legends of Poker, and fifth in WPT's Ladies Night Out IV.
Vanessa won her first major event in September 2006, cashing the $5,000 No-Limit Hold 'em Event at the Borgata Poker Open for $285,540.
Over the next two years, Vanessa added several WPT, WSOP and WSOP-Circuit cashes to her list of wins. But her biggest win came when she finished second in the online PokerStars WCOOP Main Event, winning over $700,000.
Vanessa has appeared several times on NBC's "Poker After Dark" and travelled on PokerStars' Latin American and European Poker Tours, where she finished 10th at the 2008 LAPT-Punta del Este and 39th at the 2008 EPT London.
She finished seventh at the 2009 Southern Poker Championship in Biloxi.
Vanessa, who holds dual citizenship in France and the U.S., speaks English, French and Spanish. While she will graduate from the University of Miami law school in 2009, she has no plans to sit for the bar.
Vanessa now lives in Las Vegas with her fiancé, Chad Brown, also a professional poker player.
Latest Women Poker Player Profiles