Darus Suharto Profile

Those of you who remember Chris Moneymaker's World Series of Poker Main Event victory in 2003 may feel a little bit of déjà vu when you hear Suharto's story─ in fact, Suharto is an accountant just like Moneymaker was. Suharto paid all of $80 for his entry into the 2008 World Series of Poker Main Event. Suharto's $80 buy-in won him a seat in a larger qualifying event which led him to become one of the November Nine. Now Suharto is guaranteed $900,600 even if he busts out on the first hand in November. That's an 11,258% return on his investment─ not including potential endorsement deals.

Top 10 Online Poker Rooms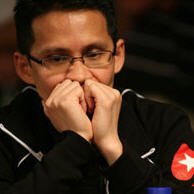 "I was a donkey. I'm still a donkey. Hey, but the good thing is─ I was a donkey in 2006 and I made the money!" Not exactly an orthodox strategy, but apparently donkalitics works for Darus. He currently has 12.5 million chips that say his strategy works.

This Indonesian-born poker amateur makes his home in Toronto, Canada where he says he can only get in about 15 hours of poker a week. Apparently that was enough─ at least─ it was enough to get him to the final table of the 2008 World Series of Poker Main Event. However, it may take more than a few hours a week to prepare this amateur to face the professionals at the final table.

On this point, Darus Suharto is surprisingly nonchalant. Here he is with a guaranteed $900k in his pocket and he's talking about how he can only play poker on the weekends so it doesn't interfere with his job. Either that's one hell of a job or Suharto has the world's best work ethic. Then again, maybe that's the kind of amazing discipline it takes for the average guy to beat a field full of the best poker players in the world.

Even though Suharto has the fifth largest stack at the final table, he still has a ways to go to prove himself in the poker world. Much like running a marathon, the closer you get to your goal, the harder it is to keep on going. Suharto will have to face poker pros like Ylon Schwartz and Craig Marquis. Will Suharto be able to overcome the odds and win the $9,000,000 first prize? And if he does, will he keep playing poker only on weekends? Who knows? Suharto is as hard to read during an interview as he is at the poker table.

Even though the odds of Suharto winning are slim, the world is watching and wondering. Is this going to be another Cinderella story? Could the Moneymaker saga be repeated? Is Suharto the new Moneymaker? That's the real question. At a time when network TV is resorting to marketing hype like detaching the final table of the World Series of Poker Main Event so they can spend four months hyping it up, the poker community could really use another hero like Moneymaker.

Tournament History
448th – 37th Annual World Series of Poker: Event 39 (2006)


Total Prize Money: $26,389
Darus Suharto Photo Gallery
Latest Poker Player Profiles