Dennis Phillips Profile

Dennis Phillips was a relatively unknown poker player until he made the final table of the World Series of Poker Main Event. In November of this year, he'll return to the final table as the chip leader in hopes of achieving his long-term goal of winning a World Series of Poker Main Event bracelet.

Top 10 Online Poker Rooms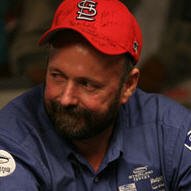 Far from being a professional poker player, Phillips started playing poker as a hobby in 2004. While he has never won a major tournament, he did money in two World Series of Poker Circuit Events in 2007.
So how did a 53 year old account manager from St. Louis, Missouri become the chip leader at the final table of the most prestigious tournament in the world of poker? Phillips would be the first to admit that never in his wildest dreams would he have thought that a $200 satellite buy-in at Harrah's would bring him to the final table─ but it did.
Now Dennis Phillips has several months to prepare for the final table battle. He'll face a field of professional, semi-professional, and amateur players for a shot at over $9,000,000 and a World Series of Poker Main Event bracelet.
What are Phillips chances of winning? Several odds makers put his odds of winning at 4 to 1, but don't tell his friends in Missouri that. His friends will tell you that Phillips is a down-to-earth guy with all the manners you'd expect of a gentleman. They'll also tell you that he's a vicious tournament player.
Phillips, however, says he's just going to have fun with it and with over 26 million chips, it looks like it's going to be a blast.
Phillips knows, however, that being the chip leader in no way guarantees that he'll win. With over 18 million chips, semi-professional player Ivan Demidov is nipping at his heels. In addition, Phillips will have to battle several professional poker players for the title including Peter Eastgate who, while young, has already won several tournaments on the European circuit.
As we get closer to November, the question on everyone's mind is: Will Dennis Phillips's red hat reach the iconic level that Greg Ramier's Fossil glasses did? We won't know until November, but this wouldn't be the first time that a Joe Anyman won the World Series of Poker Main Event. Chris Moneymaker set the poker world on fire when he won the WSOP Main Event in 2003.
It's no secret that interest in poker has waned over the years. Legislation like the Unlawful Internet Gambling Enforcement Act have scared a lot of US player out of the online poker rooms. Maybe it's time for another hero. Maybe a win from Dennis Phillips could give poker the shot in the arm it needs to reach its pre-2006 glory. A victory from Phillips could remind the amateur players out there that a WSOP victory could be within their grasp if they work hard at their game. I guess we'll find out in November.
Tournament History
7th – World Series of Poker Circuit Event (2007)
9th – World Series of Poker Circuit Event (2007)

Dennis Phillips Photo Gallery
Latest Poker Player Profiles