Joseph Hachem Profile

Joseph Hachem is one of four players to have come in 1st place for the WSOP Main Event and the WPT Championship event. He was original born in Lebanon, and then moved to Australia before coming to America to make his millions. His original work was being a chiropractor but that al changed when he got a very rare blood disease in his hands, disabling him to work in that field any longer. So he turned to poker, and won his very first WSOP Main Event and becoming an Insta-Star.

Top 10 Online Poker Rooms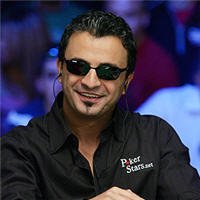 Joseph Hachem
is one of the most winning players in poker in terms of money. Since 2007 he has racked up more than 10 million dollars in live tournaments and is only the second player to have more than 10,000,000 dollars in poker winning (Jaime Gold is the other one).
Joseph Hachem
is the shining example that if you put in enough work you can make it to the elite list of poker players. His amazing run in the 200 Main Event catapulted him to the top literarily over night. Now Joseph is sponsored by
Poker Stars
and is a PokerStars Pro.
Notable Winnings for Joseph Hachem:

WSOP – 2005 - $1,000 No Limit Hold'em – 10th place - $25,850

WSOP – 2005 - $10,000 No Limit Texas Hold'em World Championship Event - 1st place - $7,500,000

WPT – 2006 - $7,800 WPT Main Event No Limit Hold'em – 5th place - $88,172

WSOP – 2006 - $2,500 Short Handed No Limit Hold'em – 2nd place - $256,800

WSOP – 2006 - $2,000 Pot Limit Hold'em – 15th place - $9,664

WSOP – 2006 - $10,000 No Limit Texas Hold'em World Championship Event – 238th place - $90,482

WPT – 2006 - $15,000 WPT Doyle Brunson North American Poker Classic – No Limit Hold'em - 1st place - $2,207,575
Latest Poker Player Profiles