Justin Bonomo Profile

Justin Bonomo was born on September 30, 1985 and grew up in the great state of Virginia. Bonomo fell in love with the game of cards at the age of nine. However, you won't find these cards in a poker deck. Bonomo was an avid player of Magic: The Gathering. By the age of 12, Bonomo was touring the US and competing in Magic tournaments.

Top 10 Online Poker Rooms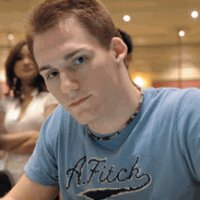 In 2002, Bonomo noticed that more than a few Magic players were making some decent money playing online poker. Bonomo thought he could do the same, but despite rising to the $5/$10 limits, Bonomo had a hard time building his bankroll. The turning point in his career would be a trip to a Magic tournament in California.
It's amazing how small twists in fate can change the course of your life. It was one of those small twists that lead Bonomo to become a professional poker player. While in California, Justin Bonomo caught some of the World Poker Tour on TV and thought it was interesting. Motivated by the program, Bonomo bought a few poker books to pass the time on his flight back to Virginia.
By the time Bonomo landed, he'd read the poker books and was ready to take his game more seriously. Bonomo studied intensively and gradually worked his way up the limits in the online poker rooms and this time he was building his bankroll along the way.
Bonomo made the break from online to live play when he went to Aruba in September 2004 to compete in a World Poker Tour event. He didn't make it to the second day. His next tournament, however, would be more successful.
In January of 2005, Bonomo placed 30th in the 2006 PokerStars Caribbean Adventure in the Bahamas. That win earned Bonomo $15,600. Even so, it remained difficult for Bonomo to find live games to hone his skills. When you're under 21 and live in the US, poker can be a difficult game to play. So Bonomo did what any dedicated, underage poker player would do─ he went to Europe.
As it turned out, moving to Europe was a great move for this budding poker player. On February 19, 2005 Bonomo became the youngest player in history to make a televised final table when he took 4th place at the French Open. Since the French Open, Bonomo has been to many final tables including final tables at the World Poker Tour and World Series of Poker.
Despite all of his final table appearances, Bonomo has never won a major tournament. However his current winnings exceed 1.4 million dollars─ not bad for someone who's barely old enough to play poker legally in the US.
It's only a matter of time before this young up and comer starts posting some serious tournament victories. Justin 'ZeeJustin' Bonomo is known for having an analytical approach to poker and a burning desire to improve his game. Add to that his already impressive record for making the money in tournaments, and you have the makings of a future poker prodigy.
Justin has signed with Bodog recently and now joins fellow Team Bodog pros David Williams, Evelyn Ng and Jean-Robert Bellande to represent Bodog online. "I'm extremely excited about joining the select ranks of Team Bodog pros and becoming an ambassador for the Bodog brand alongside David, Evy and Jean-Robert. I know each of them personally and have tremendous respect for them,"This is perfect timing as he also has reached over $1 Million in career earnings and has had very good results in many high profile tournaments and went pretty deep in WSOP 2007 and hopes to do so with the 2008 WSOP. "I'm ready to start things off right by having a big WSOP this summer and hopefully bringing home a gold bracelet for Team Bodog. I'm also looking forward to meeting up with other poker players from around the world at Bodog's online poker tables."
Latest Poker Player Profiles