Phil Ivey Profile

Maybe one of the greatest young poker players of our time, Phil Ivey is trying to make his mark on the poker world in a big way. He's young, super skilled and plays poker like non other. Although he does have a long road a head of himself to catch some of the greats in poker history like Doyle Brunson or Phil Hellmuth in terms of tournament wins but never the less Phil is a player to watch for the duration.

Top 10 Online Poker Rooms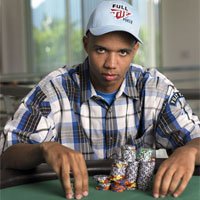 Phil Ivey
was born in 1976 and spent the first part of his life in New Jersey. He worked in telemarketing and sales until he obtained a fake ID so he could head down to Atlantic City and play poker. From that point on he knew that he had found his calling. For the next few years he continued to grind it out until in 2000 when he won a bracelet in the $2,500 PL Omaha Event at the World Series of Poker.
After winning his first bracelet he was unstoppable. He would spend long hours playing in "backroom" poker games and earning a name for himself as an extremely aggressive player. In 2002 he won three more bracelets at the WSOP in the 7 Card Stud Hi-Lo, 7 Card Stud and S.H.O.E events. Then is 2005 he won $635,603 in the $5,000 PL Omaha tournament, this gave him a total of 5 bracelets at the age of 29. Although these are great achievements and they show that he can master any game, what he wants most is a WSOP main event win. He had managed to make the final table but never finished 1st . Around this time people starting calling him the "Tiger Woods of Poker".
Phil was also very active in World Poker Tour events. He made the final table at 7 different events but never placed better then 2nd. In a few of these WPT tournaments he was knocked out holding the same hand (A-Q) which seems to bring a lot of bad luck to poker players. Doyle Brunson stated in his book that he never plays that hand, but he has been caught playing it a time or two.
Phil has also done well in many other non-WSOP tournaments. In 2005 he won $1,000,000 in the Monte Carlo Millions tournament and the next day won $600,000 at the Full Tilt Poker Invitational Live also at the Monte Carlo. In 2006 he finished 2nd in a European Poker Tour event worth $486,000. He also finished 7th in a European Poker Masters event and took home another $150,000. He has currently won almost 8 million dollars from major live events.
In 2006 a group of professional poker players also known as the "Corporation" put their money together and took turns playing billionaire Andy Beal. The game was $25,000/50,000 fixed limit Texas Hold'em and during the first match they lost $10,000,000. Phil won their money back and then some when he beat Andy for $16,000,000.

What's He Like?
Phil is surprisingly a quiet guy at the table. Even when he loses a big hand he tends to keep it all inside. Off the table is a still fairly reserved but a lot more outgoing. Like most professional poker players he likes to incorporate gambling in anything he can. He has been known to play high stakes golf, even though its rumored he's still a novice.
What's he doing now?
Phil is living in the gambling capital of the world, Las Vegas with his wife Luciaetta. He spends a lot of his time playing high stakes Texas Hold'em and pot limit Omaha at Full Tilt Poker. He also a can be regularly found at the $4,000/8,000 tables at the Bellagio. Phil is also a avid video game player and like most pro poker players enjoys the occasional prop bet. Phil is very active in the major live tournaments such as the WSOP and WPT as well. One of our favorite quotes by Phil Is from his website "I'm a firm believer in learning the game by playing the game. I'm not saying there aren't a lot of great resources around to help players improve their games or that poker books and tutorials don't have their place. They do. However, the problem I see with people who rely on these kinds of aids is that they end up playing poker like someone else or - even worse - like everyone else. " So go learn how to sign up a online poker account at Full Tilt Poker and learn how to play. Phil Said it best you just have to play.
Major Wins
WSOP
2000 - $2,500 Pot Limit Omaha - 1st Place
2002 - $2,500 7 Card Stud Hi-Lo - 1st Place
2002 - $2,000 S.H.O.E - 1st Place
2002 - $1,500 7 Card Stud - 1st Place
2005 - $5,000 Pot Limit Omaha - 1st Place
Other Tournaments
2005 - Monte Carlo Millions -1st Place

Latest Poker Player Profiles