Scott Montgomery Profile

Born on October, 16, 1981, this Canadian from Perth Ontario is one of the poker professionals who will sit down at the Main Event final table in November. Before his explosion on the poker scene at the LA Poker Classic, Montgomery spent most of his time playing online poker tournaments.

Top 10 Online Poker Rooms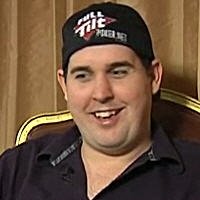 Born on October, 16, 1981, this Canadian from Perth Ontario is one of the poker professionals who will sit down at the Main Event final table in November. Before his explosion on the poker scene at the LA Poker Classic, Montgomery spent most of his time playing online poker tournaments.
It's been quite a year for Scott Montgomery. He's finished in-the-money in 5 major tournaments and now he's one of nine people fighting for the World Series of Poker Main Event bracelet. His earnings this year top $400,000 with over half of that money coming from his 5th place finish in the LA Poker Classic. His finish in the LA Poker Classic was no small feat. That final table included players like Phil Hellmuth, Phil Ivey, and Nam Le. Now he's guaranteed at least another $900,000 for making the final table in November for the World Series of Poker Main Event. Montgomery is definitely running hot.
As a matter of fact, Montgomery has only been in three $10,000 tournaments and he's moneyed in all three. That's not a bad track record.
What's Montgomery's secret? "I don't care," says Montgomery, "I never care." Scott explains that he does better in larger buy-in tournament than smaller ones because you can bluff players off a hand in a more expensive tournament. "Nobody wants to risk their whole tournament," Montgomery continues, "Nobody but me." According to Scott Montgomery, if you want to win a big tournament, you've got to be willing to lose.
Before his appearance on the live tournament scene, Montgomery made his homey playing online tournaments, however online cash games are taboo for Montgomery. Montgomery explains that he hates online cash games because players are never around long enough for him to get a read on them. Montgomery is happy to play live cash games, but when he's online, he sticks to tournaments.
It seems like he should stick to live tournaments too. He's certainly proved he's good at them. But the situation at the Main Event final table is unlike anything he's experienced before─ unlike anything anyone has experienced before. These players know they'll be playing for a chance to win over $9,000,000 dollars and the coveted World Series of Poker Main Event bracelet. And that changes things.
Montgomery knows that reads don't matter. Any flaws in a player are sure to be corrected by four months of poker coaching and even poor players who got lucky will come back in November as poker powerhouses. I'm sure money will be no object to these contenders since they're already guaranteed over $900,000 and first prize is ten times that amount; not including the endorsement money these nine players are likely to get.
One thing is for sure, with players like Scott Montgomery in the mix, we're sure to see some fireworks in November when the Main Event resumes play.
Tournament History
4th – Bellagio Cup IV (2008)
16th – 39th Annual World Series of Poker: Event 25 (2008)
17th – 39th Annual World Series of Poker: Event 7 (2008)
29th- 39th Annual World Series of Poker: Event 2 (2008)
5th – LA Poker Classic (2008)

Latest Poker Player Profiles