Ylon Schwartz Profile

Ylon Schwartz has done a good job of staying under the radar for a guy that's moneyed in so many major tournaments. But then, that's the way Schwartz wants it. Schwartz is the kind of guy who's been playing games all his life. He's played chess for money since he was 13 and now plays chess, darts, pool, golf, and poker of course.

Top 10 Online Poker Rooms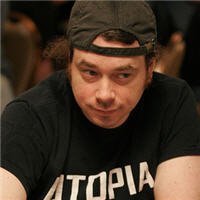 This 38 year old player from Brooklyn is no stranger to the poker table, but his style is a little less flamboyant than most. You won't see any Negreanu-esk moves from Schwartz. Schwartz's strategy throughout the Main Event was to play solid poker and grind away at the small pots. Of course, that doesn't mean he's opposed to taking down the big one's too - like the hand he won against Craig Marquis for over 5 million chips.
So how is this member of the November Nine planning on preparing for the final table? He's going to go away- far away. Faced with a barrage of phone calls from people he hasn't heard from in over 10 years, Ylon wants to go into seclusion to keep his head on straight. This player isn't used to the limelight.
Where does a player like Ylon go to get away? Maybe Brazil or maybe Guatemala; he hasn't decided yet. But one thing is for sure. If Schwartz wins, he's going to lie down on a hammock in his remote getaway snuggled up to a bottle of expensive tequila. Schwartz says that a World Series of Poker win may be just the thing to kick of his retirement. Life as a high-dollar wino has its appeal. But in reality, it's doubtful that someone who has such a passion for games could ever completely give up playing. That's fortunate for the poker community.
Schwartz is a solid tactician. With about 13 million in chips, Ylon Schwartz is running in the middle of the pack, but that's plenty of chips for Ylon to work with. Given his experience, Ylon could easily parlay his medium sized stack into a big-stack powerhouse. That would be bad news for the other players at the table.
In November, Ylon Schwartz will test his poker prowess against a field of both professional and amateur poker players. Will his strategic mindset win the day, or will the pressure of his first major final table make him go bamboo? We'll find out in four months.
Ylon said " if he won the millions he would get the best tequila and become a high class wino for the next ten years."

Tournament History
15th – World Series of Poker; Event 20 (2008
21st – World Series of Poker Circuit Event (2007)
29th – World Series of Poker: Event 52 (2007)
58th – World Series of Poker: Event 30 (2007)
38th – World Series of Poker: Event 37 (2006)
39th – World Series of Poker: Event 31 (2006)
152nd – World Series of Poker: Event 17 (2006)
17th – World Series of Poker: Event 13 (2006)
33rd – World Series of Poker: Event 36 (2005)
16th – World Series of Poker: Event 28 (2005)
58th – World Series of Poker: Event 24 (2005)
15th – World Series of Poker: Event 22 (2005)
Latest Poker Player Profiles