Daneil Negreanu Profile

Born July 26, 1974 in Toronto, Ontario, Canada Daniel Negreanu is one of the most popular poker players in the world. Daniel Negreanu is known for is tournament play, and made a name for himself in 2004, when he was named the poker player of the year. Off of the poker table, he is a huge hockey fan and enjoys golfing. He has recently become a representative of Pokerstars.com, where he plays online poker.

Top 10 Online Poker Rooms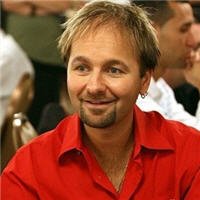 Daniel Negreanu has a career all time winning number of $9,661,192.00. At the World Serious of Poker Daniel has had 27 cashes that add up to a total of $2,056,560.00 where he won three bracelets. He has 17 total top 10 finishes up until 2008. At the World Poker Tour, Daniel Negreanu has won a total of $5,420,834.00. He has had 13 cashes and 2 1st place winnings. Out of the 13 cashes, 7 of them were Top 10 finishes.
The start of Daniel Negreanu's poker career was in 1998 where he won his first World Series of Poker bracelet to jump start his success. From there his successful career just went up. His first big year in poker was in 2004, where he reached 11 final tables and had occupied $4,465,907.00 in winnings. His great poker play and outgoing personality gave him a lot of attention and quickly gained him a huge fan base. At this point Negreanu made more money in this year then any other year.
Daniel Negreanu has also done very well in the WPT where he has won a couple of different events. With $5,420,834.00 in total winnings for the WPT, it is safe to say he has done fairly well, thus far. Other then the poker tables, Daniel has a website called FullContactPoker.com, where he holds a variety of attractions. He has a weblog, videos, forum, store and much more on his website. Daniel Negreanu Nicknamed KidPoker, has became a trademark of poker, and he is not going anywhere any time soon.
Latest Poker Player Profiles