Gus Hansen Profile

One of the world's greatest poker players goes by the name of Gus Hansen. Gus Hanson was born on February 13, 1974 in Denmark. Before he became a professional poker player he was a world class backgammon player. Not only that, but he was a youth tennis champion.

Top 10 Online Poker Rooms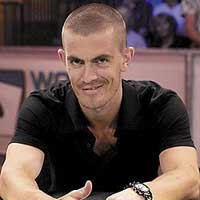 Gus Hansen is a Full tilt poker representative and plays on the site very often. He is a great online poker player as well as a great live poker player. He has made his name at the World Poker Tour, where he has had the most success. Gus Hansen is most famous for being the only player in poker history to have won four WPT titles. He has also made a name for himself winning the 2007 Aussie Millions Main Event.
In 2002, Gus Hansen kicked off his winning poker career by winning the $10,000.00 No Limit Hold'em – final event. He won $556,460.00 from this tournament and it was the point in his career where he really started to take off. He won the $10,000.00 No Limit Hold'em Championship even the following year at the WPT to win another $532,490.00. Then again in 2004, he had won another WPT event (the $7,500.00 No Limit Hold'em).
Gus Hansen is now known for concentrating more specifically on is cash games, and he is very selective with his tournaments. Hansen participates in the show called High Stakes poker, where he is known for winning the biggest pot in the show's history. The pot that he won was against Daniel Negreanu, and it added up to $575,700.00. In this hand Gus had 5 5 while Daniel was holding 6 6. The board was 9 6 5 5 8.
Gus Hansen plays in a variety of different games, although he is best known for No Limit Texas Hold'em. He is known to play in the big game at the Bellagio. He plays in a lot of different types of games against some of the best poker players in the world. This is where the professionals make their real money. Gus Hansen may have made his name at the WPT, but his living is made grinding it out at the high stakes cash games in the casinos.
Latest Poker Player Profiles