Peter Eastgate Profile

This is an exciting time for Peter Eastgate and the entire poker world. In fact, it's an exciting time for everyone except the poker brat Phil Hellmuth. That's because Peter Eastgate has a chance to beat Hellmuth's record and become the youngest player to ever win the World Series of Poker Main Event.

The 2008 World Series of Poker Main Event is over and Peter Eastgate has emerged the champion of the November Nine! The 22-year-old Dane has defeated Russia's Ivan Demidov in heads-up play, making a wheel straight on the climactic hand to clinch the tournament and $9,152,416 in prize money. Making him the youngest player to ever win the WSOP. Knocking out Phil Hellmuth off the podium.

Top 10 Online Poker Rooms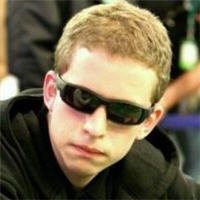 The stakes may be high, but high stakes are nothing new to Eastgate. Peter has been a professional player since 2005. Until recently, he has played mainly online poker in both the short-handed and heads-up games. Anyone who can play the $200/$400 limits can handle the pressure that faces
Peter Eastgate
at the final table of the World Series of Poker Main Event.
If nothing else, this final table validates Eastgate's decision to forgo college to grind out a living on the felt. After all, Eastgate is guaranteed to walk away from the World Series of Poker with at least $900,600. That's over 11 ½ times his tournament earnings to date.
One of the defining moments in Eastgate's bid for the bracelet came with 17 players left in the game. Dennis Phillips made it 500,000 to go and got called by Eastgate and Tiffany "Hot Chips" Michelle. The flop came down A-T-9. Tiffany checked. Phillips bet 1 million and Eastgate called. With the action back on Tiffany, the pace slows. She thinks for a while and then pushes all-in for another 3.8 million. A-J may have looked good at the time, but the truth of the situation must have hit Tiffany hard when Eastgate turned up his pocket aces. No runner-runner came to save Tiffany and Eastgate added millions to his stack.
Eastgate's run continued when his kings held up against Anthony Scherer's A-8 of clubs. The run was well timed. By the time 10th player was eliminated, Eastgate's stack stood at about 18,500,000 chips─ enough to put him in 4th place in the chip standings.
With the fourth highest chip stack and only around 6 million chips between him and the chip leader, Eastgate stands a good chance to take the first prize of $9 million dollars and the World Series of Poker Main Event bracelet.
It looks like this 22-year-old poker prodigy may challenge Gus Hansen as Denmark's premier player. In fact, Danish poker pro Jacob Rasmussen was quoted as saying: "…It's more like Gus Hansen is the first Peter Eastgate."
Those are flattering words from a fellow Dane, but Eastgate is much too modest to accept that kind of a compliment. He says: "..I think Gus Hansen will still be the only representative for Denmark. I could win the tournament and it wouldn't change that."
Still. There's no doubt that a victory in November will immortalize Eastgate in poker history and he has a good chance of pulling it off. Eastgate will face a mixed field of amateurs and professionals in November. If he can increase his stack early on, Denmark may have a new champion and Phil Hellmuth may have a feather removed from his cap.
Tournament History
1st – World Series of Poker WSOP (2008) $9,119,517
32nd – European Poker Tour Scandinavian Open (2008)
9th – PaddyPoker Irish Open (2007)

Latest Poker Player Profiles